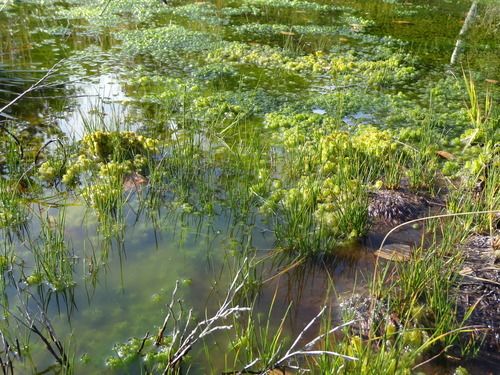 Preserving peat bogs in Switzerland
Most Drones For Earth missions to date have involved using eBee mapping drones to assist humanitarian projects. However in recent months we have taken part in an increasing number of environmental conservation projects too, such as our recent Namibia mission.
Here in Switzerland we were contacted by Pro Natura, a non-profit conservation organization with over 100,000 members, to help with a unique biodiversity project – using drones to create orthomosaics and terrain models of an ancient peat bog in need of regeneration.
Following the redevelopment work of site one, the presence of so much surface water and tufts of new dark green vegetation now indicate a healthy site.
The mission in numbers:
Project performed in: 2014
Sites mapped: 2 (1 for immediate redevelopment, 1 for future redevelopment)
Days: 0.5
Drones For Earth staff: 3
Pro Natura staff: 1
Total flights: 4 (2 covering site 1, with 2 further flights over site 2)
Flight coverage:

Flights 1 & 2 (site 1): 0.23km2
Flights 3 & 4 (site 2): 0.35 km2

Camera payload: RGB
Total images acquired: 1,061
Orthomosaic accuracy: 3.4 cm (1.3 in) per pixel
Digital surface model accuracy: 4.4 cm (1.7 in) per pixel
An important but declining resource
Peat bogs, also called quagmires, are unique environments. They develop over many centuries on naturally waterlogged sites where micro-fauna (responsible of the organic matter degradation) cannot survive. As a result, dead plants cannot be degraded, and instead these layer up over time, very gradually creating large deposits of peat.
These bogs typically attract a particular array of plant and animal species, many of them rare, making them of great importance to biodiversity. However such ecosystems are increasingly hard to find and can only be find on this environment.
In Switzerland for example, peat bogs cover a mere 0.5% of the country, yet they are home to 25% of the country's endangered vascular plants. Plants and animals species living on these bogs can only survive on this particular environment. On a global basis meanwhile, such quagmires cover only 3% of the earth's land mass, but contain a full one-third of all the ground-stocked carbon on the planet.
Why have peat bogs become so few and far between? The answer is two-fold: large amounts of peat exploitation over the last century; and the drying out of land for use by intensive agriculture. And the proportion of the earth's surface that these sites account for continues to decrease, with one study having recorded a global decrease of 10% between the years 1997 and 2002 alone.
Interestingly, Swiss quagmires are remnants of a wider landmass, linked to the Nordics, and therefore contain many of the same bug and insect species; just one of the reasons why the remaining quagmires in Switzerland are considered irreplaceable.
The regeneration project
The specific site that Drones For Earth was asked to map is a rain-fed or 'ombrotrophic' bog in Forrenmoos, close to Lucerne in central Switzerland.
In 2014 we were contacted by Pro Natura to help with this site's regeneration by providing accurate terrain models that Bastien Amez-Droz, Pro Natura's Head of Nature Reserve & Wetland Projects, could use to plan the regeneration of three separate areas of this bog site – the aim being to ensure its continued good health by reforming the terrain to better catch and retain water.
This swisstopo image, captured before the redevelopment work began, shows the site that Pro Natura protects. The drone-sourced data overlaid in blue and green shows areas of terrain surplus (too high) and deficit (too low) respectively, with red dots representing trees that need to be cut to allow the regeneration work.
One drainage system at the site is thought to have been in place, removing water and thus drying the terrain, for around 50 years. The system was deactivated as part of the project.
For such highly delicate remodelling work, it is crucial for Pro Natura to accurately understand the terrain's topography and the hydrological functioning of the site. However nationally available Federal Office of Topography, or so-called 'swisstopo', models are too low in resolution to allow for accurate enough planning, meaning lengthy manual ground measurements would traditionally have been required. Ideally, 5-10cm accuracy is needed.
Aware of drone mapping's potential to fill this accuracy gap however, Bastien called Drones For Earth to enlist our help, asking that we fly drones over the site to capture aerial photography that could then be transformed into centimetre accurate 3D digital surface models (DSMs).
"The models we requested from the Drones For Earth team were imported into Esri ArcGIS software where we designed a three-step terrace terrain for our first of the three redevelopment sites," says Bastien. "We chose this terracing approach to significantly increase the presence of rain water in the bog, which is exactly what's needed for such a struggling bog to first regenerate and then continue to thrive."
Having flown two flights over the first site, the 3D digital surface model Drones For Earth created allowed Bastien to accurately plan the height of each terrace and calculate from which part of the bog his team should move existing peat to create these new steps. The ecological aim was to ensure the exact same amount of local peat remained in the quagmire before and after the regeneration work – with no external material being brought onto site and no leftover peat remaining. The result of this sensitivity? Minimal environmental impact and minimal pollution.
During this terrain redevelopment, Bastien and his team moved approximately 200 m3 (7,062 ft3) of peat in total – using a backhoe and a dumper truck, mounted on rubber tracks, containing particulate filters and running off biodegradable hydraulic oil.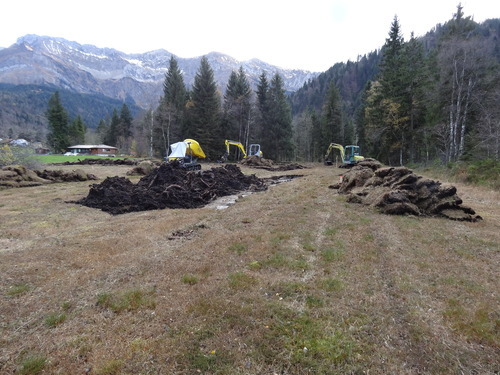 Following our drone flights and the creation of the site's digital surface model, a local entrepreneur mandated by Pro Natura moved approximately 200 m3 (7,062 ft3) of peat.
Creating the site's second and third terraces, work which immediately increased the amount of standing water on the site.
The drone-sourced orthomosaic of the area of bog Pro Natura regenerated. The left part was already regenerated by Lucerne canton in 2014. The right part has been regenerated during this project.
This 3D digital surface model, created using drone-sourced images, allowed Pro Natura's team to accurately plan the height of each terrace and calculate from where to move existing peat to create these.
Standing water, new growth
"When we returned to Forrenmoos this July, a few months after the remodelling work, we could see that the project appears to have had the desired effect, so I was very happy," Bastien reports. "There was even enough water in the newly made terraces for dragonflies to lay eggs, and the swamp is now home to a large population of white-faced darters (Leucorrhinia dubia). It's clear that the meadow is damp and even flooded in places, which was the desired effect. That was even before the current heavy rains, at the end of a fairly dry period."
Download Bastien Amez-Droz's article of this project (in French)